Shri Sadguru Prasanna [Chitra Nakshatra, Shani Pradosha, Anagha Laxmi Vrat]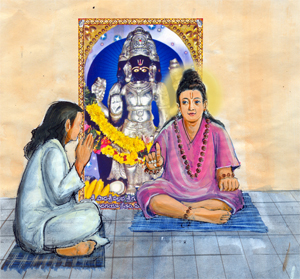 The information which is given is from Sreepada Charitramurtam Book. Sreepada has removed all day to day difficulties of his devotees. He also has guided devotees to follow good path in life by praying time to time. Way to worship god in mentioned as follows
1. Chitra Nakshatra (Page 180 in Marathi Edition)
2. Shani Pradosha (Page 86,193 in Marathi Edition)
3. Shri Datta Anaghalaxami Vrata (Page 204,211,259 to 262 in Marathi Edition)
All these are main rituals and rest is just simple procedures to be followed. For more information related to Pithapur, Kuravpur & Shirdi you can visit the following websites:
www.sreepadasreevallabhapithapuram.org
www.pithapur.com
www.shrisaibaba.com
Or call us between Morning 10 to 1, Evening 6 to 9 on 022-28911544.
A] Worshiping Sreepada Vallabha when there is "Chitra Nakshatra"
Sreepada Vallabha's avatar was formed on "Mangal Graha" in chitra nakshatra, so that's the reason when worshipped on this nakshatra. When worshipped on this nakshatra all graha dosh will be removed. All bad effects of mangal are removed such as sudden death, failure in life, accidents, war are removed by blessing of Sreepada Vallabha. All these incidents are resulted sue to "Mangal Graha".
It is difficult to check if Adhini Nakshatra is been removed. But 180 deg angle Chitra Nakshatra is there where one circle seen where number 6 number rashi after meeting this rashi Adhni is formed and Chaitrapaksha is understood. Adhni Nakshatra "Turang Mukhdhwani Shetri making 3 circles together becomes Ashwin Nakshatra. That is only in form of Lord Dattaaray. In kaliyug this was first incarnation in form of Sreepad Vallabha. This Ashwin Nakshatra is straight 180deg near chitra nakshatra that's his birth nakshatra. 180 deg far no particular nakshatra is seen there. Birth of human being is being decided on these arrangements of nakshatras. All these grahas make human beings heart clear and makes him a good believer of good things.
Doing various pujas in chitra nakshtra is been mentioned in Charitra of Sreepa Vallabha. During Chitra Nakshatra if someone does puja of Sreepada Vallabha then all his past karmas will be removed and he will attain all his goals in future. Below is mentioned the Chitra Nakshtra's dates and timing occurring during current year.
Following are the detail about Chitra Nakshtra for 2012
Date
8th September 2012
16th October 2012
21,March,2011
12th November 2012
9th December 2012
B) Offering Puja to Lord Shiva during Shani Pradosh
Sreepad Vallabh is the most supreme power in universe. Shanidev is karmarak.Shani is very powerful as he is son of Surya God and he is very powerful on Saturday evenings. Chaturthi and Tayadashi rahu is very powerful. Shaitarodayashi earlier one used to pray to Lord Shiva by which our earlier karmas in earlier birth gets cleaned up. Mahashivrati coming on Tuesday is very luck and auspicious as on Saturday Triyadashi means Shanipradosh. On this day one must donate Til to Shani God. As Shiv is Shanis favorite god so Mastor oil is poured on Shani Idol to reduce the effect of shanipradosh. Also praying to shani dev all evil things get reduced peace and calmness in formed in us. All bad karmas get removed and peaceful mind and memory is formed.
By following all prayers to Shani god on Saturday night he fulfills our desires and wishes. On Sunday Surya God rearranges all the good effects on him.During Shanipradosh Black Til and White Til should be given to Shani God. During Shanipradosh offering puja to Sreepad Sreevallabha will remove your shani dosha. We havementioned all the dates and days when Shanipradosh occurs.
Following are dates for Shani Pradosh
13th October 2012
27th October 2012
C) Anaghalaxmi Swaroop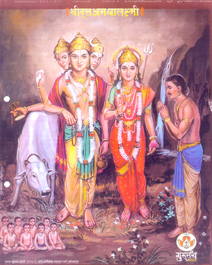 Anaghalaxmi is one of Datta swarrop. Mahasaraswati, Mahalaxami and Mahakali all these three have formed Anghalaxmi. All these there had tremendous power.
During Khestra Yug "Savitrikanyachan" named yagna was performed due to which in form of "Ardhanareshwar" swaroop was formed and due tow which Sreepad Vallabha took his avatar in Pithapur.Mahalaxmi is form of Maha Vishnu. Mahasaraswati, Mahalaxmi, Mahakali all three are form of Chaitanya Padmawati Godess This is form of Mahalaxmi but has power of all three goddess. Anagha Devi is also considered as part of Lord Vishnu, so offering puja to Anaghadevi is like offering puja to Lord Vishnu. AnaghaAstami is considered very auspicious to devotees of Sreepad.
Following are dates for Anghalakshumi Pujan in 2012
8th September 2012
8th October 2012
7th November 2012
6th December 2012
D) Aahobilyam
Offering puja to Lord Narshima removes the Chandra Dosha in ones kundali and also makes his mind stable if anyone is suffering from mental health problems.
Bramhakamal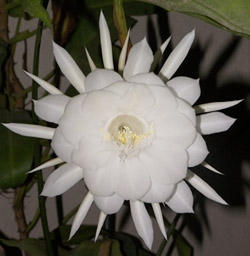 Regarding bramhakamal flowers detailed information is given in Marathi Edition of Sreepada Sreevallabha Charitramurtam Page 15 & in English Edition Page 28.
If Shri datta is worshipped with lotus flower spiritua;ity and wealth is achived. This blossom flowers blooms once in year in himalayas approximately at altitude of 1200 ft. When blooming the fragrance is spread across the entire area. They bloom between 7.30 pm to 5.00 am .
All our sins get destryed by looking at this Bramhakamlas. This miracle confers intant results. Therefore yogis and other holy people attain higher status in their respective paths. After it blooms the flowers disappears, only those who are destinid to see they only get to view these.